Over larger long-haul flights, commercial travel can often be cumbersome, time-consuming and inefficient. For discerning clients seeking to alleviate these factors when travelling internationally, the following options have consistently been recognized in media articles as the latest champions of long-range travel
Gulfstream G650ER
Passengers looking for comfort, range and high speeds need to look no further than the G650ER that offers a range of 14,000 kilometres with 14 hours
of flying time Coupled with a cabin that is longer and higher than any other ultra long-range private jet, the
plane has seating for up to 19 passengers and can carry up to 103,600 lbs. of luggage. Inside the aircraft, there are flexible cabin designs, handcrafted seats, digital audio/video equipment and porcelain dinnerware for a truly high-class experience.
Bombardier Global 6000
The closest competitor to the Gulfstream is the Bombardier Global 6000, eponymously named for its ability to fly 13 hours or 6000 nautical miles (11,000 kilometres). Powered with industry-leading technology and performance, the 6000 is designed to provide a smooth ride, complete with wider leather seats, hardwood flooring and ultra-fast digital connectivity. All cabin controls are available at a single click while a large media bay enables passengers to wirelessly watch movies, mirror live streaming or display documents onto HDTV monitors, making it the perfect option for long-haul flights.
Dassault Falcon 8X
The ultra-long- range 8X can comfortably make it non-stop from LA to Edinburgh, Dublin, Malaga and London. That versatility is down to the powerful three-engines "tri-jet" set-up, which, combined with a larger-but-lighter fuselage, offers improved speed, efficiency and nimbleness over the previous model. The interior is one of the quietest in its class and promises to leave passengers and crew feeling fresher after a long flight.
Cessna Citation Longitude
Is the jet of choice for anyone looking to stay ahead of the curve. The Longitude exceeded expectations in its 2016 debut flight and has a range of 3,500 nautical miles with a full-fuel payload of 1,600lbs. Seating for 8 to 12 passengers in a wide cabin that allows full height headroom and a walk-in baggage compartment accessible during flight. State-of-the-art tech also allows passengers to control their environment and entertainment with any mobile device using a special app while high-speed internet comes as standard.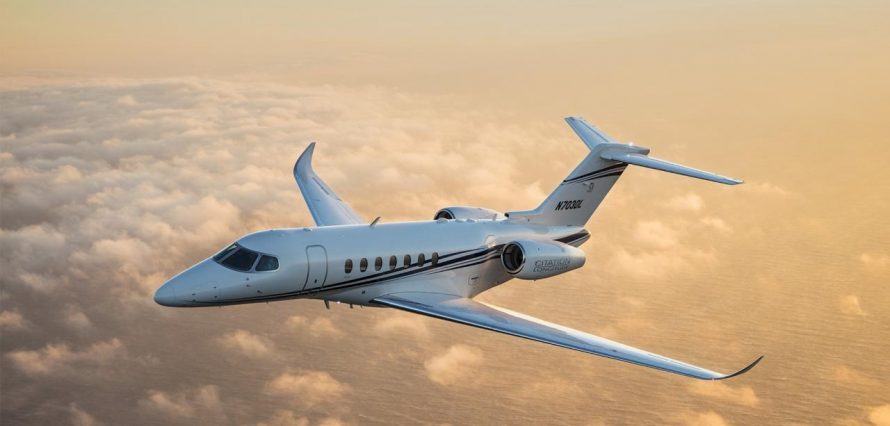 Piaggio Avanti Evo
Designed by Italian aviation firm Piaggio Aerospace, the Avanti Evo mixes classic good looks with cutting edge technology in an unusual twin turboprop package. It is the ultimate twin turbo aircraft with a range of 2,700 Km idea for 4-6 guests with excellent luggage capacity.